The Magic of Rosehip Oil
Give your skin a nourishing boost and restore a healthy glow with this unique oil from Organic Spa.  Packed with vitamin E, this multi-vitamin skin supplement is designed to smooth fine lines and aid in cell renewal. 
Rosehips are thought to have more vitamin C than oranges  with research showing that vitamin C may help reduce ultraviolet light damage caused by free radicals, supports collagen production, which helps reduce wrinkling, as well as increase wound healing and help prevent dry skin.
Rosehip oil also contains vitamin A, otherwise known as Retinol  which is excellent for:
reducing and reversing sun damage
reducing wrinkles
reducing hyperpigmentation
treating mild to moderate acne
And then there are the amazing plethora of essential fatty acids such as:
oleic acid
palmitic acid
linoleic acid
gamma linolenic acid
Benefits of Rosehip Oil for Skin
It is rich in essential fatty acids which are essential for skin health. These help to repair and regenerate damaged skin cells.
Rosehip oil contains vitamins E, D and a Pro vitamin A (beta carotene).
Rosehip oil is a natural source of vitamin E which is a natural anti-inflammatory. It calms, relieves and dry irritated skin. Vitamin C is a natural skin brightening agent. It gets rid of hyperpigmentation and balances out skin tone. Vitamin C protects the skin from sun damage.
Rosehip oil also acts as an anti-aging. It is rich in antioxidants such as lycopene. It protects the skin against damage from free radicals. This prevents premature aging and helps to improve the texture of the skin.
It reduces formation and appearance of scars such keloids, acne scars and hypertrophic scars. Studies have also found that rose hip oil is useful for healing of burns and surgical scars.
Rosehip Oil has fatty acids which make up essential building blocks for cell membranes. This improves the movement of nutrients into the cells where metabolism takes place.
Use your Rosehip Oil to brighten dull, tired skin.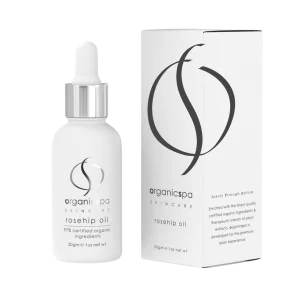 Skin: normal, dry, sensitive